2004 Commemorative Edition Z06
Commemorative Edition Celebrates Racing Success
BY: GM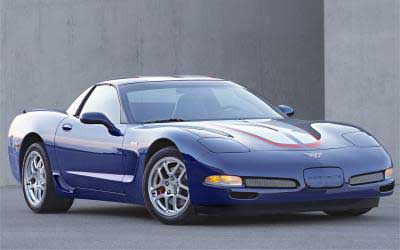 DETROIT, MICH. - Since its inception in 1997, the fifth- generation Chevrolet Corvette has created a remarkable string of performance achievements, on the road and on the racetrack. For 2004, the final chapter in the C5 era, this tradition continues with the Commemorative Edition Corvette, celebrating Corvette Racing's historic Le Mans victories and delivering technology that once again improves the breed.

Corvette Racing has claimed consecutive GTS class championships in 2001 and 2002 at the famed Le Mans 24 Hours, the world's most prestigious sports car endurance race.

"The great racing success of the C5-R is more than just symbolic, it's a real testament to the world-class technology and performance of the Corvette," says David Hill, vehicle line executive and Corvette chief engineer. "We've created the 2004 Commemorative Edition to share our racing achievements with Corvette enthusiasts, while bringing real performance and technology upgrades to the Z06."

The 2004 Commemorative Edition Z06 features a new hood using carbon fiber material, and exterior graphics and color designed in concert with the new-look C5-R that will go for a landmark third consecutive Le Mans GTS class championship. The carbon fiber hood represents the first time this advanced material has been used as original equipment for a painted exterior panel on a North American-produced vehicle. The unique Le Mans Blue paint with a silver and red center graphic will appear on the race car only at Le Mans 2003 and only on the road on a limited number of 2004 Commemorative Edition Z06s.

Commemorative Edition Corvette Coupes and Convertibles will also be available for 2004. These will share an exclusive package of styling amenities, including Le Mans Blue paint and a Shale- colored interior, with a Commemorative Edition exterior badge noting Corvette's Le Mans titles. Special embroidery on the headrests of each seat is also included.

"At Chevrolet and especially with the Corvette, racing is part of our DNA," says Rick Baldick, Corvette Marketing Director. "The 2004 Commemorative Edition provides us the opportunity to connect our customers even more closely with this unprecedented era of Corvette Racing."

2004 Z06 - another round of technical enhancements The Z06 Corvette shook the foundations of the sports car world upon its 2001 debut, as the Corvette for the extreme performance enthusiast. Just a year later, horsepower moved from 385 to an awe-inspiring 405. For 2004, Z06 gets two performance-enhancing upgrades - the lightweight, race-inspired carbon fiber hood for the Commemorative Edition, and revised chassis tuning for quicker, smoother response in the most challenging environments.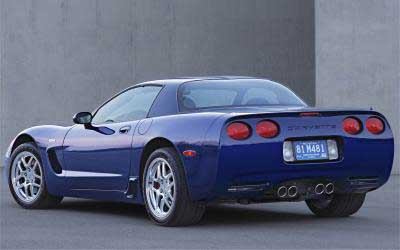 The carbon fiber hood - only available on the Commemorative Edition version of the 2004 Z06 - weighs 20.5 pounds, 10.6 less than the standard hood, providing another measure of weight savings for a car that already enjoys a very potent power-to- weight ratio. Previously reserved for racing and exotic sports cars, carbon fiber combines extremely high strength and low weight. The inside hood panel is a hybrid of carbon fiber and Sheet Molded Compound (SMC).

Specifically developed for the Corvette, the Commemorative Edition Z06 hood achieves a higher level of exterior finish quality than previous automotive applications of carbon fiber. On most carbon fiber parts, the woven pattern of the material is easily seen beneath the exterior finish. To diminish that effect and preserve the rich LeMans Blue paint finish, on the Commemorative Edition Z06 the carbon fibers are aligned in a single direction. The only visual cue that the hood is made from carbon fiber is in the red border surrounding the silver graphic on the car, which is arranged in a woven pattern signifying the material that lies underneath. The overall result is a finish consistent with the rest of the car that gives just a slight hint at the carbon fiber construction.

Nurburgring-inspired chassis tuning
All 2004 Z06 Corvettes will benefit from the continual pursuit of performance enhancements that have characterized the C5 era. The enhancements for 2004 are subtle in terms of physical parts, but significant in terms of the car's performance and feel.

GM engineers have refined the Z06's shock damping characteristics to provide improved handling in the most challenging conditions, while maintaining good ride control for the demands of daily driving.

Continual analysis, development and refinement of the shock valves in particular resulted in more damping control and force, delivered more smoothly. This new tuning is aimed at diminishing the impact of yaw and roll on the car, particularly in quick, transient maneuvers such as "S-turns" or a series of tight corners.

"While the Z06 already had an excellent blend of extreme handling capability and surprising ride quality, we're never satisfied," Hill says. "The enhancements for 2004 provide a bit more poised and smooth response, connecting the car better to the driver's input, without the penalty of ride harshness."

These refinements are a result of extensive testing and development, including several high-speed test sessions at Germany's famed Nurburgring circuit. Corvette Z06 is one of only a precious few cars to have broken the 8-minute barrier for lap times at Nurburgring. Corvette testing at Nurburgring isn't just about raw speed, as the Z06 provides plenty of that. Engineers gathered important learning on tuning the chassis to enhance the poise, confidence and smoothness of response, attributes that are of great importance under the severe demands of a 14-mile course that has approximately 170 turns and virtually constant elevation changes.

"Nurburgring, at the extreme edge of the envelope, provides conditions that can't be easily duplicated anywhere else," says Hill. "But, even for the Z06, we spend considerable time ensuring we don't make adjustments that compromise the normal daily driving character of the car."




Return to Corvette 101