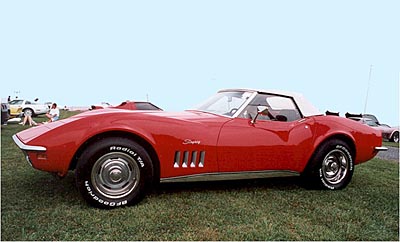 The 1969 Corvette was the second production year of the 1968 - 1982 "C3" generation. The wheelbase remained the same as the C2 (1963-1967) Corvettes and must of the chasis was also the same. The word "stingray" was added to the side panels of the car. A side mount exhause header system was available. Two ZL1 corvettes were also produced in 1969. These monster corvettes (ZL1) were all aluminum motors and were the highest horsepower corvettes ever produced. They were estimated to be over 500 horsepower (in reality not GM rating). C3 Corvette coupes featured removable roof panels. 1969 Corvettes were the first to offer the three speed turbo hydra-matic. The windshield wipers were designed to be hidden under a vacuum operated panel at the base of the corvette's windshield. Approximately 39,000 corvettes were produced in 1969.
22,129 Corvette Coupes and 16,633 Corvette Convertibles. Original pricing for the 1969 Corvette Coupe was $4,781. The 1969 Corvette Convertible was priced slightly lower at $4,438.
The 1969 was available with 427 cubic inch engines. The 1969 Corvette L88 high performance engine was initially rated at 430 horsepower. The L71 boasted 435 hp. There were five engines available for the 1969 Corvette:
350 ci 350 hp base engine (L46)
427 ci 390 (L36)
427 ci 400 hp (L68)
427 ci 430 hp (L88)
427 ci 435 hp (L71)
Holley and Rochester Quadrajet Carburators were installed on the 1969 Corvettes.
10 Exterior colors were available (Paint code in parenthesis):
Tuxedo Black (900)
Polar White (972)
Rally Red (974)
Lemans Blue (976)
International Blue (978)
British Green (983)
Safari Yellow (984)
Silverstone Silver (986)
Cordovan Maroon (988)
Corvette Bronze (992)