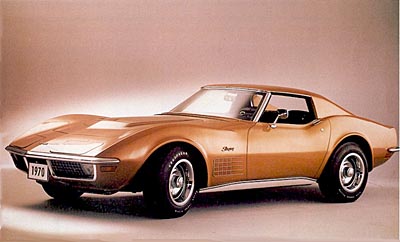 The 1970 Corvette was the third production year of the 1968 - 1982 "C3" generation. The body design as slightly updated in 1970. The fender flairs were changed. This reduced wheel thrown body damaged. The four vertical "gills" were replaced with new louvers. The exhaust tips were changed to rectangular ones. The word "stingray" was added to the side panels of the car. The engine displacement was increased to 454 cubic inches. The LT1 engine had solid lifters and produced 370 horsepower. 1970 production did not begin until January 1970, hence the low production. Approximately 17,000 corvettes were produced in 1970. A ZR1 (ZR-1) was available in 1970. The ZR1 had the LT1 motor, the M22 transmission, heavy duty brakes, a transistor ignition, special aluminum radiator, special springs, shocks and sway bars. An LS7 engine rated at 460hp was planned for production as the ZR2, but it was never developed and sold.
10,668 Corvette Coupes and 6,648 Corvette Convertibles. Original pricing for the 1970 Corvette Coupe was $5,192. The 1970 Corvette Convertible was priced slightly lower at $4,849.
The 1970 was available with 454 cubic inch engines. There were three engines available for the 1970 Corvette:
350 ci 350 hp base engine (L46)
454 ci 390 (LS5)
350 ci 370 hp (LT1)

Holley and Rochester Quadrajet Carburators were installed on the 1970 Corvettes.
11 Exterior colors were available (Paint code in parenthesis):
Classic White (972)
Monza Red (974)
Marlboro Maroon (975)
Mulsanne Blue (976)
Bridgehamptone Blue (979)
Donnybrooke Green (982)
Daytona Yellow (984)
Cortez Silver (986)
Ontario Orange (991)
Laguna Gray (992)
Corvette Bronze (993)