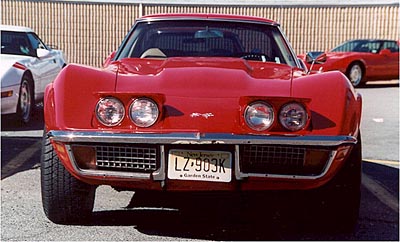 The 1971 Corvette was the fourth production year of the 1968 - 1982 "C3" generation. The 1971 corvette was one of the least changed models from one year to the next. A labor dispute shortened the 1970 production year, affecting thq 1971 corvette as well. With the exception of the LS6 engine, all of the 1971 corvette engines were detuned versions of the 1970 corvette engines. The LS6 engine had 425 hp and had aluminum heads. The fuel filter door was redesigned for access reasons. The 1971 corvette was the last model to contain fiber optic instrumentation or indicator lights. 1971 production did not begin until January 1971, hence the low production. Approximately 21,000 corvettes were produced in 1971. A ZR1 (ZR-1) was available in 1971. The ZR1 had the LT1 motor, the M22 transmission, heavy duty brakes, a transistor ignition, special aluminum radiator, special springs, shocks and sway bars.
14,680 Corvette Coupes and 7,121 Corvette Convertibles. Original pricing for the 1971 Corvette Coupe was $5,496. The 1971 Corvette Convertible was priced slightly lower at $5,259.
The 1971 was available with 454 cubic inch engines. There were four engines available for the 1971 Corvette:
350 ci 270hp base engine
350 ci 330 hp (LT1)
454 ci 365 (LS5)
454 ci 425 hp (LS6)

Holley and Rochester Quadrajet Carburators were installed on the 1971 corvettes.
10 Exterior colors were available (Paint code in parenthesis):
Nevada Silver (905)
Sunflower Yellow (912)
Classic White (972)
Mille Miglia Red (973)
Mulsanne Blue (976)
Bridgehamptone Blue (979)
Brands Hatch Green (983)
Ontario Orange (987)
Steel Cities Gray (988)
War Bonnet Yellow (989)