1972 Corvette
Corvette 101 - Year Specific Datasheet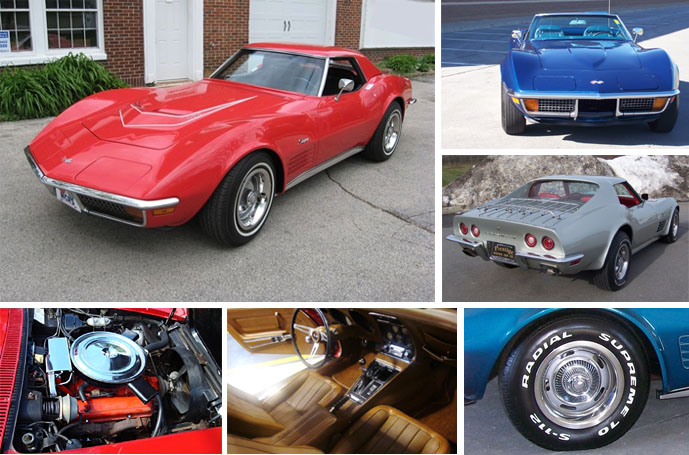 Production:
| | |
| --- | --- |
| Coupes | 20,496 |
| Convertibles | 6,508 |
| Total: | 27,004 |
|   |   |
VINs:
1Z37K2S500001 - 1Z37K2S527004
* Convertibles: Third Digit is 6
* Fifth Digit is Engine ID:
   K=350/200 hp, L=350/255 hp, W=454/270 hp
Highlights:
The 1972 Corvette was the fifth production year of the 1968 - 1982 "C3" generation. The 1972 corvette was the last corvette to feature front and rear chrome bumpers. The 1968-1972 corvettes are called "steel bumper corvettes". The car was very little changed from 1971 to 1972. The 1972 corvette was also the last to have a removable rear window. The ZR1 package and the LT1 engine were offered for the last time until Chevrolet resurrected these designations in the 1990s. To reduce the possibility of shredded fan belts from high rpm runs, the LT1s with air conditioning had the base engine's 5600 rpm redline tach instead of the 6500 rpm tach. In 1972 the measuring of horsepower was changed from gross horsepower to net horsepower, thus the lower horsepower rating. Approximately 27,000 corvettes were produced in 1972. A ZR1 (ZR-1) was available in 1972. The ZR1 had the LT1 motor, the M22 transmission, heavy duty brakes, a transistor ignition, special aluminum radiator, special springs, shocks and sway bars.
Original pricing for the 1972 Corvette Coupe was $5,533. The 1972 Corvette Convertible was priced slightly lower at $5,296.
The 1972 was available with 454 cubic inch engines except in California. There were three engines available for the 1972 Corvette:
350 ci 200hp base engine
350 ci 255 hp (LT1)
454 ci 270 hp (LS5)

Regular Production Options:
| | | | |
| --- | --- | --- | --- |
| RPO | DESCRIPTION | PRICE | TOTAL |
| 19437 | Base Coupe | $5,533.00 | 20,496 |
| 19467 | Base Convertible | $5,296.00 | 6,508 |
| N/A | Custom Interior Trim | $158.00 | 8,709 |
| AV3 | Three Point Seat Belts | NA | 17,693 |
| A31 | Power Windows | $85.35 | 9,495 |
| A85 | Custom Shoulder Belts (std. w/ coupe) | $42.15 | 749 |
| C07 | Auxiliary Hardtop | $273.85 | 2,646 |
| C08 | Vinyl Covering for Auxillary Hardtop | $158.00 | 811 |
| C50 | Rear Window Defroster | $42.15 | 2,211 |
| C60 | Air Conditioning | $464.50 | 17,011 |
| ZQ1 | Optional Rear Axle | $12.65 | 1,986 |
| J50 | Power Brakes | $47.40 | 18,770 |
| K19 | Air Injection Reactor | N/A | 3,912 |
| LS5 | 454ci, 270hp Engine | $294.90 | 3,913 |
| LT1 | 350ci, 255hp Engine | $483.45 | 1,741 |
| M21 | 4 Speed Manual, Close Ratio Transmission | $0.00 | 1,638 |
| M40 | Turbo Hydra-Matic Automatic Transmission | $0.00 | 14,543 |
| N37 | Tilt-Telescopic Steering Column | $84.30 | 12,992 |
| N40 | Power Steering | $115.90 | 23,794 |
| P02 | Deluxe Wheel Cover | $63.20 | 3,593 |
| PT7 | White Line Tires F70 x 15 | $30.35 | 6,666 |
| PU9 | White Letter Tires F70 x 15 | $43.65 | 16,623 |
| T60 | Heavy Duty Battery (std. w/ LS5) | $15.80 | 2,969 |
| U69 | AM/FM Radio | $178.00 | 19,480 |
| U79 | AM/FM Radio Stereo | $283.35 | 7,189 |
| YF5 | California Emission Test | $15.80 | 1,967 |
| Z49 | Canadian Base Equipment Package | N/A | 1,059 |
| ZR1 | Special Purpose LT1 Engine Package | $1,010.05 | 20 |
Colors:
10 Exterior colors were available (Paint code in parenthesis):
Sunflower Yellow (912)
Pewter Silver (924)
Bryar Blue (945)
Elkhart Green (946)
Classic White (972)
Mille Miglia Red (973)
Targa Blue (979)
Ontario Orange (987)
Steel Cities Gray (988)
War Bonnet Yellow (989)

1972 Corvettes for Sale: