Two great publiciations in one bundle!

The Corvette Market Letter
is an annual 12-issue (monthy) newsletter that provides the latest information on new Corvettes as well as updates on vintage Corvettes. All this is supplemented with both five and ten year pricing graphs. The Market Letter provides complete listings and price information from all of the major Corvette auctions in the United States. The Market Letter also contains regional and national pricing of all Corvette years and models for that month. In addition, a classified section and upcoming events notice are updated monthly.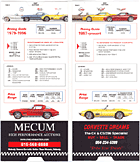 The 2014 Corvette Price Guide
covers all Corvette years and body styles with high, low and average prices for each Corvette model. Another important feature of the Price Guide is the provisional one, two and five year appreciation factors for each Corvette. In addition, the Price Guide provides the original base price and the number of units manufactured. To complete the content, included is information on motors, wheels, hard tops and factory air conditioning.
The Corvette Price Guide
can be ordered separately for only $15 and shipping is free
Click here for details
.

Shipping:
Shipping for the Corvette Market Letter and Price Guide is free! This item is shipped directly from Vette-N-Vestments. Your first issue of the Corvette Market Letter will arrive in 7-10 days.