VetteFinders Sample Appraisal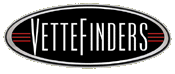 Corvette Appraisal Service
Appraisal Date: 12/10/2007

Name: Keith Cornett
Email: keith@VetteFinders
Address: 6207 Sanders Dr
Address line 2:
City: Tampa
State: FL
Country: USA
Zip: 33611
Phone: (813) 835-0903
Fax: (813) 805-0215

The details for the car:

Year: 1971
Body Style: Coupe
VIN: 1194371S103xxx
Engine: LS-5 454
Horsepower: 365
Transmission: Automatic
Exterior Color: Red
Interior Color: Black
Miles: 69,100

Appraised By: Bob Kroupa




Substantiation:1971 Corvette T-Top (Coupe) with VIN #194371S103xxx. The VIN indicates this Vette was built in December, 1970, early in the 1971 production year. The mileage of 69,100 is reported to be original.

The paint color is Mille Miglia Red and is coupled with a Black Vinyl interior. Both are considered to be in good condition and are correct for this model year. The interior is completely 'stock'; the seats, carpet and dash are in excellent condition. The AM/FM radio is correct and was an option for this model.

This Corvette is powered by an optional 454-365 motor coupled with an automatic transmission. It, too, is correct for the model year as evidenced by the 'matching numbers'. The engine compartment is clean, the chrome shielding is in place and the air cleaner is correct.

The curb appeal of this 1971 Corvette is excellent with its chrome bumpers, new old stock tires that are enhanced by the optional deluxe wheel covers that were a rare option and only offered for the 1969 through 1973 model years. In addition, the spare tire is original.

Other options include power steering and brakes as well as the tilt-telescopic steering column.

An important ingredient in establishing the price of a Corvette is documentation. This Corvette was purchased from the original owners. The purchase included all the original delivery documents as well as the original bill of sale and protect-o-plate.

Most importantly, the originality of this Corvette has been substantiated by a 4-star Bowtie from the Boston NCRS Nationals in 2007 as well as a 97.5 Top-Flight award from the Las Vegas Regional Meet in 2007.

We place a value of $32,400 on this very original 1971 Corvette Coupe. This model showed a 10% appreciation factor in average price during the past year.

Appraiser's Price: $32,400

Appraiser's Credentials: Bob Kroupa is Publisher & Editor of VETTE-N-VESTMENTS, the monthly Corvette market newsletter. He also contributes Corvette pricing articles to Old Cars Weekly and to Corvette Fever as the "On The Block" column writer. Bob has been involved in the Corvette hobby for over 25 years and has owned over 65 Corvettes, representing most years and body styles.

Appraisal Report Prepared by: VetteFinders (http://www.VetteFinders). Please contact us if we can be of any further assistance.

VetteFinders
6207 Sanders Drive
Tampa, FL 33611
877-608-3883 - Toll Free
813-805-0215 - Fax
info@VetteFinders



Online Corvette Appraisals
An appraisal is as easy as 1,2,3

List the Vette's Information which will allow our Appraiser Bob Kroupa of Vette-N-Vestments to accurately appraise the vehicle. The VetteFinders Appraisal Checklist will provide you with an easy list of information that you should gather prior to beginning the registration process.

Give us the Contact Details so you can be contacted for any follow-up questions or comments, and to let you know when your appraisal is ready.

Pay for the Appraisal with Visa, MasterCard, Discover or American Express in our secure payment center. VetteFinders appraisals are only $69.95!


Payment will be required in step three
VetteFinders accepts:


A VetteFinders Online Appraisal is only $69.95 per Corvette.

You will be presented with a confirmation screen to review your appraisal information and contact information. If everything is correct, submit your appraisal for processing.

Following the submission process, our appraiser, Bob Kroupa of Vette-N-Vestments will thoroughly review your appraisal information. When his analyses is completed you will be sent the appraisal via email and your payment will be processed.

Members Log-in | Appraisal Application

Return to the Corvette Appraisal Main Page