1997 Corvette
The Fifth Generation of an American Legend
BY: Bob Kroupa of Vette-N-Vestments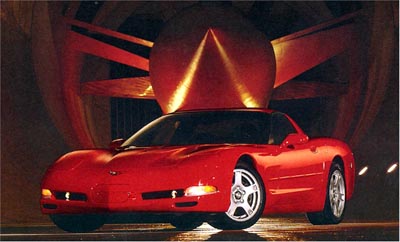 For only the fifth time in history, Chevrolet had recreated a legend. The 1997 Corvette was a new generation designed to excel in the areas most important to Corvette customers - ride and handling, performance, comfort and overall refinement.
According to Dave Hill, Corvette Vehicle Line Executive and Chief Engineer, engineers and designers considered every aspect of the vehicle for potential improvement.
"We examined our weak points, and turned them into strengths, " said Hill. "Things that were good we made great. Things that were great are now even better."
Hill's team designed the new '97 Corvette to appeal to a wide range of buyers. According to Hill, "Even those customers who are important insiders are going to take a long, hard look at Corvette.
"Make no mistake," added Hill, "it'll thrill our current owners. It provides more sports car for the money than anything in its market segment. It'll pull nearly 1g, and it starts and stops quicker than you can blink. It truly is the best 'Vette yet."
John Middlebrook, Chevrolet General Manager, concurred with Hill, and paints a bright future for the Corvette
.
"Corvette is now, and will continue to remain Chevrolet's flagship," said Middlebrook. "It is our technological and image showcase. Even more importantly, Corvette stands as the most singularly dramatic example of what we mean by 'Genuine Chevrolet.'
"Corvette is much more than just a car," said Middlebrook. "It's a love affair. Words alone fail to convey the passion it inspires."
Recreating The Legend History often repeats itself. In the case of the fifth generation Corvette, designers found themselves faced with a dilemma that others had faced before - how do you recreate a legend?
Corvette's design needed to evolve in significant ways, yet history dictated that a Corvette must always be a Corvette - an elusive mandate, part mystique, part mechanics.
It may have been comforting for engineers and designers to know that all Corvette redesigns followed a similar course - an intellectual struggle between the need for change and the desire to retain Corvette's heritage.
The Design Process
The task of redesigning the beloved Corvette was immense. With all the directions the design could take (radical versus retro, front engine versus mid-engine, pushrod versus overhead cam, luxury versus high performance) engineers and designers had one shot at recreating a legend.
One design imperative was absolute: The customers - sports car owners and enthusiasts - must play a major role in determining Corvette's new direction. The Corvette must adapt to changing times, as it has in the past, while remaining true to its origin. And with new European and Asian competitors being introduced, it was important the new Corvette be acceptable to both the traditional Corvette buyer and those who never before considered purchasing a Corvette.
Key Influences
As part of the design process, the Corvette team conducted some 80 in-depth one-on-one interviews with Corvette owners and owners of competitive sports cars. A larger, quantitative national survey of more than 1,600 people helped Chevrolet develop a list of design criteria.
The interviews and surveys resulted in data on every aspect of the car, and sports car ownership in general. The goal was to rank customer preferences so that the design team would have a road map to which features were really important, and which weren't.
Research and development efforts also explored the psychological side of sports car ownership - freedom, fun, pride and image. These factors had to be considered, as they are building blocks of Corvette's mystique.
Following the research phase, customer preferences were ranked as follows:
1. Well-built
2. Performance
3. Safety
4. Appearance
5. Comfort
6. Value
Quality was of utmost importance. The message was clear: On top of legendary performance, eye-catching style, a hint of nostalgia alongside the latest technology, Corvette had to set the standard in terms of quality.
The Corvette team found nuances within each category of study that further defined the design. Under performance, for example, the number one consideration among those surveyed was "handles and maneuvers well," not "Speed and acceleration."
According to John Heinricy, then Director of Corvette Total Vehicle Integration Engineering, this information focused the design team on improved ride and handling.
"While speed and acceleration are important," said Heinricy, "customers preferred a balanced car that handled the rigors of everyday driving exceptionally well, not one strictly oriented toward straight-line speed."
In the end, each individual group (customers, dealers, journalists and GM executives) influenced the design of the fifth generation 1997 Corvette. The common denominator: Increase quality and performance while maintaining the value and styling cues for which the Corvette is famous.
John Cafaro and Jon Albert: Corvette's Style Conscience
Arguably one of the most anticipated aspects of the 1997 Corvette was styling. In addition to performance, much of Corvette's allure lies in style. Corvette's style chronicles America's changing tastes with each new generation while maintaining an identity that is uniquely Corvette.
Enter John Cafaro, then Corvette Chief Designer and leader of Corvette design team. Cafaro's job was to take an already time-tested design and improve it.
To do this, Cafaro had volumes of research and first-hand experience in his bag of tricks. Next would come live focus groups with Corvette owners and high-end competitive sports car owners. During these focus groups, designers would use clay models and seating bucks to gauge reactions on both exterior and interior packaging concepts.
The focus groups gave designers, engineers and Corvette Brand Team members a chance to witness first-hand the reactions to a variety of design concepts.
Midway through the process, two customer camps emerged, diametrically opposed in terms of what they were looking for. One, traditional Corvette owners who didn't want change. The other, competitive owners who thought change was necessary.
One voice, however, kept coming through in every phase of the research: first and foremost, it must look like a Corvette. Cafaro knew that there were some things with which you just don't mess. The design of the Corvette needed to be handled with a sensitivity toward its heritage.
Cafaro and then interior designer Jon Albert had been living with the idea of the fifth generation Corvette for some time. Even as children, Cafaro and Albert had a passion for the car. They often traded stories and reminisce about drawing cars in school, and hanging out at local Chevrolet dealerships around "new model" time.
As adults, Cafaro and Albert retained their passion for the car and brought a '90s perspective to the design process. One of their greatest tasks was to create "harmony" between all the different groups working on the redesign.
"We designed the car with a synchronous mindset," says Albert of the design process. "We focused on individual goals, such as improving performance, reduced mass and increased reliability, within the overall framework of the whole car. We evaluated and balanced each change, so as to optimize the total car."
This new way of thinking required new technology as well. The vehicle was designed using a computer technology that allows draftsmen and designers to peer into computer-screen cutaways of designs in progress. This system provided live data and reported conflicts and errors during the design process, which helped designers like Cafaro and Albert create an integrated environment that met the special requirements of the Corvette owner.
In final clinics, both Corvette owners and competitive owners overwhelmingly approved the new interior and exterior designs.
Heritage Cues In The New Corvette Interior
TWIN-POD COCKPIT
The twin-pod cockpit - a separate and distinct pod for both driver and passenger - is a look that began with the original 1953 Corvette and was accentuated in the design of the second- generation '63 Vette. Designers looked to the '60s-era 'Vettes to add a spacious simplicity to the cockpit.

ANALOG GAGES/INSTRUMENTATION
Analog gages are similar in concept to the second and third generation Corvettes. The muscle car era tended toward functional simplicity, and the fifth generation Corvette incorporated that same philosophy. The instruments represented a combination of analog and digital technology, with a three-dimensional appearance inspired by earlier Corvette gages housed individually.

PASSENGER SIDE GRAB HANDLE
The handle was a styling cue that dated back to the 1963 Corvette. In this Corvette, the grab handle wass a functional part of the interior, making it easier for passengers to get in and out. It also helped deflect the air bag in the proper direction in the event of deployment, maximizing occupant protection.

DASH-MOUNTED IGNITION
The original Corvette had a dash-mounted ignition, a feature that disappeared after 1968. A dash-mounted ignition returned in 1997.
Heritage Cues In The New Corvette Exterior
OVERALL STYLING
Corvette's relatively long hood and short rear deck have been characteristic of the car since its second generation, beginning in 1963. This Corvette featured a new underlying architecture, with a longer wheelbase, a wider track and better visibility.

HEADLAMPS AND TAIL LAMPS
Concealed headlamps and four tail lamps have been hallmarks of the Corvette since its second generation, although the shape of each has evolved. Tail lamps in particular have shifted between perfectly round and nearly square as times, as tastes and designers have changed through the years. The tradition continued for 1997 with concealed headlamps and oval tail lights.

RADICALLY SLOPED REAR WINDOW
The "fastback" look had appeared and disappeared over the years. The 1963 Split Window Coupe was the first, most famous appearance of the feature on a Corvette. It disappeared in 1968, only to return on the redesigned 25th anniversary edition Corvette in 1978. The sloped rear window continued for 1997, however, a major redesign doubled the rear cargo space.

UNDULATING FENDERS AND SIDE AIR SCOOPS
Thanks to the ability of composites to hold rounded shapes, Corvette has always been on the cutting edge of body design. Flowing fenders, and the side coves which first appeared in 1956, are two of Corvette's most recognizable features. The 1997's air scoops continued into the door, much like the side coves of the first generation.
Form Follows Function
Often times, the simple curve of a fender or rake of a windshield belies the dozens of major design considerations that led to a final shape. Consider the underlying design criteria of the following features:
DECK AND REAR FASCIA
The shape of the tail section was determined almost purely by three necessities: The need for improved interior room, overall aerodynamics and ease of use. The height and shape of the rear deck were a function of aerodynamics. The blunt end facilitated smooth airflow off the car, and helped reduce unwanted lift. The higher near tail section allowed for more cargo room. Functional vents designed into the bottom rear fascia helped cool the exhaust system, while the shape of the fascia enhanceed under-car airflow.

HOOD LINE AND WINDSHIELD
The primary design of both helped increase visibility. The windshield was moved forward to give the driver a more commanding view. The compact profile of the LS1 engine helped make the low hood and good visibility a reality. The end result: Drivers could see more of the road in front of them (18 feet closer to the front bumper) than before.

EXTERIOR MIRRORS
The mirrors were designed to increase rearward visibility while decreasing wind noise. In fact, Corvette's mirrors had been designed to transmit near-zero decibels of wind noise.

FUEL FILLER CAP
The '97 Corvette featureed a fender-mounted fuel filler cap, not seen on the Corvette since 1960. A cap holder on the fuel filler door kept the cap from being lost, and helped prevent it from hitting the car and marring the paint.

UNDERBODY STRUCTURE
A rear-mounted transmission and drivetrain tunnel made the '97 Corvette radically different from previous Corvettes under the skin. This basic change in architecture allowed engineers to design an incredibly stiff structure and achieve close to a 50/50 weight distribution between front and rear axles. These changes led to other benefits, such as improved ride and handling, reduced noise and vibration, and greater interior space for passengers and cargo.
Front Engine vs. Mid-Engine
Front engine versus mid-engine design is an issue that seems to resurface with the arrival of every new generation Corvette. Speculation and debate seemed to continue almost down to the wire.
While the debate raged at Corvette rallies and on buff book pages, it begins at Chevrolet. Experimental vehicles and show cars Chevrolet had produced throughout the years have helped to fuel the controversy of "which is best for Corvette?"
During the design of the 1997 Corvette, overall power train configuration was again in question. Dave Hill, then Corvette Vehicle Line Executive and Chief Engineer applied GM's new Four- Phase Vehicle Development Process. The '97 Corvette was to become one of the first GM vehicles designed under this process.
The first phase (Corvette's "Voice of the Customer" research) was strong in its conviction: Front engine, rear-wheel drive makes Corvette a Corvette. Once again, as it had four times previously, a front engine design won. But engineers and designers were also driven by the need to improve interior room while maintaining Corvette's weight distribution. So, Hill's team created a Chevrolet Engineering Research Vehicle to test the concept of a new structure.
It was discovered that by changing the vehicle architecture, many challenges could be met. Utilizing a rear-mounted transmission configuration, with engine and transmission connected via torque tube, the Corvette team designed a new frame. This frame incorporated a strong structural drive-train tunnel as a backbone, which improved Corvette's structure. It also allowed designers and engineers to free up interior space for passengers and cargo.
All this while maintaining Corvette's near 50/50 weight distribution. The bottom line: The engine stayed in the front, where it had always been on every production Corvette.
Highlights of the 1997 Corvette
STRUCTURE
The enabler for many of Corvette's improvements was its underbody structure, which was several times stiffer for '97. The result: Better ride and handling, usable space and quality.

The heart of Corvette's new structure was a full- length perimeter frame made (in part) using hydroformed side rails - the largest single hydroformed parts in the auto industry. These side rails were made of a single piece of tubular steel, replacing the 14 parts previously used. Corvette's stiffer underbody structure helped promote a quieter, more vibration-free environment and enhances quality.

RIDE AND HANDLING
By stiffening Corvette's underbody structure, engineers were able to radically reduce structural variation and movement, and improve ride and handling exclusively through suspension modifications.

For '97, Corvette featured a brand new, exclusive suspension design, unlike some competitors who use off-the-shelf parts.

The new suspension was height-adjustable. Each car's suspension was adjusted during production according to its specific option content. Every 1997 Corvette off the line was consistent in terms of ride and handling.

POWER
At the heart of every '97 Corvette was a brand new LS1 small block 5.7-liter V8 engine. Engineers retained the small block's 5.7-liter displacement, traditional pushrod design and 440 bore centers, but that was where the similarity ends.

The new aluminum small block V8 was the first of its kind for Corvette. The block's "deep skirt" design helped reduce engine noise and vibration.

Other improvements included a simplified valve train, unique "extended sump" oil pan, redesigned pistons, composite intake manifold, revised ignition system and dual-wall stainless steel exhaust manifold. The LS1 was GM's first gasoline engine with Electronic Throttle Control (ETC), which resulted in more precise throttle response through all rpm ranges.

The LS1 produced 345 horsepower and 350 lbs.-ft torque - more than either engine offered on Corvette in 1996.

New for 1997 was a rear-mounted transmission configuration that enabled engineers and designers to create more interior space. Corvette offered a choice between a standard four-speed automatic or optional six-speed manual.

STYLING AND SPACE
The Corvette featured a redesigned architecture that created more interior space for people and cargo. For instance, the '97 Corvette featured more head, leg and shoulder room than the previous model. Foot-well width was increased on both sides - enough on the driver's side to allow room for real "dead pedal."

Corvette's rear cargo area had nearly doubled. The Corvette now held two large sets of golf clubs in the rear compartment. Reach-over distance had been shortened to make the trunk easier to access.

The 1997 Corvette's wheelbase was 8.3 inches longer with a wider track (equal in the rear to the ZR-1) that provided greater stability.

COMFORT AND CONVENIENCE. Overall the 1997 Corvette was more comfortable and more user friendly. Standard leather bucket seats and power driver's side adjuster had been designed for improved comfort and support. Instruments, switches, and controls were strategically located creating an intuitive environment that was responsive to the driver's needs. The parking brake lever was moved to the center console.

A lockable, lighted glove box was standard for the first time since 1993. And, the center console had been redesigned to hold cassettes, CDs, a portable phone, sunglasses or a variety of other small items.

On the outside, Corvette's hood was lighter and easier to open and close. The removable top had been simplified - no special tools were required for removal. Doors were wider and well balanced, and openings were larger, making it easier to get into and out of the Corvette.

MANUFACTURING
The 1997 Corvette was built exclusively in Bowling Green, Kentucky - Corvette's home since 1981. Today, the Bowling Green plan is one of the industry's most sophisticated assembly plants, featuring computerized manufacturing techniques and one of GM's finest paint processes.

MODEL
The 1997 Corvette was available in one body style: Corvette Coupe - a two door, two-seat hatchback coupe, with a removable roof panel.

TIRES
The 1997 Corvette featured new Goodyear Eagle F1 GS Extended Mobility Tires (EMTs). These tires provided excellent performance, even at zero psi inflation. EMTs used self- supporting sidewalls. Should tires lose air pressure, the weight of the vehicle was supported by the EMT's reinforced sidewall, and the vehicle continued to roll. The system worked so well, Corvette no longer needed a spare or a jack, which helped reduce vehicle mass and increased usable space.

The real benefit of EMTs was security. In the event of a loss of tire pressure, the driver could get to a service station without stopping.

In fact, performance and ride with zero inflation was so similar to normal inflation that drivers need to be warned of lost tire pressure via Corvette's standard Tire Pressure Monitoring System. This system operated at speeds above 15 mph via battery-powered sensors inside each valve stem, which transmitted information to the Driver Information Center.

These sensors provided accurate readings within 1 psi, with altitude compensation. Information was transmitted via FM radio frequencies; however, more than 2 million sensor "identities" virtually eliminated interference between fifth generation Corvettes in close proximity.

Corvette's EMTs for '97 provided all this while maintaining excellent tire performance in their normal, inflated state.

PRODUCTION
A total of 9,752 Corvettes were built during the 1997 production run. Of theses, 46 went to Mexico, 325 to Canada and 426 were exported outside of North America.

Torch Red was the most popular color accounting for 31% of the 1997 Corvette sales. This was followed by Black at 25%, Sebring Silver Metallic at 22%, Artic White at 14%, Light Carmine Red Metallic at 4%, Nassau Blue Metallic at 3%, and the rare color of Fairway Green Metallic at 1.5%.

From an interior perspective, Black was the most popular leather at 67% of the production run, Light Gray at 26%, and Firethorn Red at 7%.

PRICING
The 1997 Corvette received numerous Automotive Awards based on technology, styling, performance, and handling, thus creating a considerable amount of pent-up demand. It was introduced at a list price of $37,495. Initial demand exceeded production and many of the early 1997 models were sold for $5,000-$10,000 over list price.

The automatic transmission was included in the base list price. However, 29% of the buyers ordered the 6-speed manual transmission at a list price of $815.
Today, the average price of the 1997 Coupe is $27,500. We recorded the sale of one with high miles at $22,900. At the other end of the spectrum was one that had been stored since delivery and it sold for $35,900. We look for continued depreciation at the 10% level.

Return to Corvette 101