1965 Corvette
The Big Block Era Begins
BY: Bob Kroupa of Vette-N-Vestments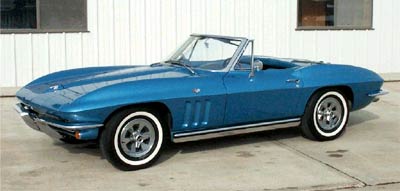 The popularity of the Corvette continued to grow with the introduction of the 1965 Corvette. The 1965 set a new production record of 23,562 units. Roadsters continued to be popular with buyers and 15,276 were built – 1,453 more than the 1964 model.

Although the basic body style did not change for 1965, numerous changes were added to the model designed to enhance its comfort and convenience, performance and stopping power. Comfort and convenience additions included a telescopic steering column for a mere $43, and an inside day/night mirror coupled with a backup lamp package for $16. And, a teakwood steering wheel was offered at $48.

The 327-250 motor with a 3-speed manual transmission was included in the base price of the Coupe and Convertible…no change from the 1964 models. Performance additions included an array of high performance motor options that were selected by 89% of the buyers. The majority selected the 327-300 HP version at $54 over the base 327-250 HP motor. New in 1965 was the 396 motor that was introduced and marketed as the 425 HP Turbo Jet. At an option price of $293, 9% of the buyers ordered this powerhouse, which was capable of a top-end speed of 140 MPH. The 0-60 acceleration time was reported at 5.7 seconds. Fuel consumption on this "big block" during normal driving was 9-12 miles per gallon! This year was also the last of the 375 HP Fuel Injected motor option, that sold for $538 and was ordered by only 3% of the buyers.

Stopping power was enhanced by a new four-wheel disc brake system that was a standard feature of the 1965 model.

The 1965 model can be distinguished from the 1964 model by a redesigned, three slot front fender louvere that was functional. The grill was similar to the preceding years, however, the center bars are black and the outer trim reflects a bright finish. Also, the hood indentations that identified the 1963 and 1964 models were removed. A special bubble hood with functional side louvers was added for the 396 motor option.

The base list price of the Roadster was $4,106. A neat enhancement was the removable hardtop that was offered at a list price of only $237. It was selected by over 50% of the buyers.

Today, our database reflects the average price of the 1965 Roadster is at $27,900, which is a 1% increase over the previous year's average price. However, our five-year appreciation figure is at 16%. Our statistics reflect a current low price of $19,900 and a restored "big block" can command $75,000. In fact, at last year's Bloomington Gold Auction in St. Charles, IL, a restored, Red, 396-425 Roadster with removable hardtop and knock-off wheels was a NO SALE at the bid of $75,000.

The 1965 Coupe was introduced at a base list price of $4,321. Our 2003 edition of the Vette-N-Vestments Corvette Pricing Guide reflects an average price of $27,200 for the 1965 Coupe. This is a 5% increase over the previous year. High price in the Price Guide for the 1965 Coupe was $61,000; this was also the bid price at last year's Corvettes at Carlisle Auction at Carlisle, PA. The Coupe was in mint condition, Red in color, had the 396-425 motor and 43,000 original miles. At the other end of the spectrum was a street-driven Coupe with a non- matching 327 motor that sold for $18,200.

From an initial advertisement standpoint, the text of ads told the entire story. Following is the copy from one such ad in 1965 for the 1965 Coupe:

"Corvette is America's one true sportscar, has been for years.

But Corvette is also two body styles. Five engines and three transmissions available. Plus enough other equipment you can order to make any kind of sports car you want.

For aficionados, there's the snarly Corvette, ordered with a 375 HP and RAM-JET fuel injected V-8, 4-speed, fully synchronized shift, Positraction, Cast Aluminum Wheels, special goldwall tires, genuine wood-rimmed steering wheel, telescopic steering column, special front and rear suspension, and special exhaust system.

For boulevardiers, there is the plush Corvette. Ordered with a 300 HP, V-8, Powerglide, power brakes, steering and windows, tinted glass, genuine leather seat trim, AM/FM radio, and air conditioning.

And if you are a bit of both, aficionado and boulevardier, you can get all kinds of in-between Corvettes, part snarly and part plush.

Every Corvette gives you 4-wheel disc brakes, fully independent suspension, retractable headlights, and a sumptuous bucket- seated interior as standard. At a very reasonable price compared to any car near its class.

Now you know why America has only one sports car; with all those different Corvette versions, who needs anymore?"

Rare options definitely include the one-year only 396 motor and the last year for the fuel injected motor option. Together these motors were only ordered by 12% of the buyers. Factory knock- off wheels were only ordered by 5% of the buyers, another rare option. In today's market these original knock-off wheels will add $4,000 to the price of a 1965 Corvette. Air-conditioning was available of $423 and ordered by only 10% of the buyers – as was the leather seat option at $81. Probably the more rare option was the 36-gallon fuel tank for the Coupe commonly referred to as a "tanker". This option was ordered by less than 50 customers.

Our price call for the future is continued appreciation for the Roadster and Coupe in the 5% range. We also look for higher prices for restored "big blocks" and air-conditioned Coupes and Roadsters.



Return to Corvette 101