The VetteFinders.com 2013 Corvette Price Guide
Photos courtesy of www.htsoftware.com Corvette Anthology CDROM
Select Generation:


1953-1962 Corvettes


1963-1967 Corvettes


1968-1982 Corvettes


1984-1996 Corvettes


1997-2004 Corvettes


2005-2010 Corvettes

These 2012 Corvette Price Guide results are based on an extensive database that contains the prices of nearly 6,000 Corvette prices collected during 2012. We find the Corvette Price Guide prices are statistically accurate. As in previous years, we identify the top Corvettes from an appreciation and depreciation perspective. We compared the average price of each Corvette model (2012) to the previous year (2011) to establish the appreciation and depreciation trends.
This pricing does not include Corvettes which have rare, limited production optional motors. These Corvettes would distort our pricing results. An example would be a 1967 Corvette equipped with the L88, 427-430 motor of which only 20 were built. The Vette-N-Vestments Monthly Market Letter covers these special Corvettes when they surface for sale.
Available Now:

The 2012 Corvette Price Guide with Appreciation/Depreciation figures for 1, 2 and 5 Years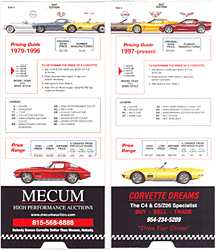 The 2013 Corvette Price Guide features:

Over 130 Corvette Models and Special Editions


High / Low / Average 2012 Sales Prices


1, 2 & 5 Year Appreciation/Depreciation Figures


Pricing for Motors, AC, Tops and Wheels
A must for any Corvette collector or enthusiast!
Price: $15.00 - Free Shipping!

Return to Corvette 101